IRIAL among the speakers of the annual event POR FESR 2018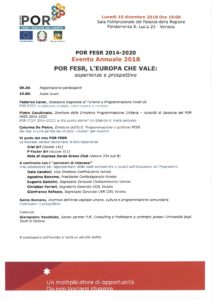 Iris Tiberio, fondatrice e CEO di IRIAL, sarà presente tra i relatori dell'evento annuale 2018 del POR FESR 2014-2018 dal titolo "POR FESR L'Europa che vale: esperienze e prospettive".
The meeting will take place on Monday 10 December, at 10 am, in the Polyfunctional Hall of the Veneto Region Palace in Venice.
As part of the event, the three projects funded by the Veneto POR FESR will be presented, including that of IRIAL concerning the "Realization of metal products with innovative technologies".
The interventions will see the participation of Federico Caner, Regional Councilor for Tourism and EU Fund Programming; Pietro Cecchinato, Director of the Unit Planning Direction POR FESR 2014-2020; Caterina De Pietro, Director of the FESR O.U. Programming and Management, and of illustrious representatives of the economic institutions of Veneto Region.